My husband and I spent part of yesterday visiting my dear friend Robert. His garden is in full, glorious bloom ... and it's the most beautiful garden I have probably ever seen. His use of color, and vertical space, and his imaginative combination of roses and companions is incredible. I just can't think of enough superlative adjectives to describe what he has accomplished.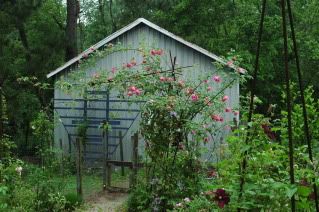 Here is a slideshow with a taste of a few of his roses. I had to leave before I photographed the whole garden .... I'll be back later this week to finish the job.
http://s135.photobucket.com/albums/q157/HartwoodHoney/Rose%20Gallery/Roberts%20Garden/?albumview=slideshow
Enjoy!!