There's a Google Map of our location on the Contact Us page of the Hartwood Roses web site. Recently, Google upgraded the resolution of the satellite image of our area …. it's really crisp and the detail is amazing. (You can even see one of the neighbor's horses in our back field.)
Here's an overview, so you can get the lay of the land . . . our property is inside the red line.
If you zoom in on the image, you can see what it looked like around here about 3 years ago.
I think the photo was taken in early spring. Things are beginning to green up, and the angle of the sun is very low … notice the shadows of the oak trees in the front yard.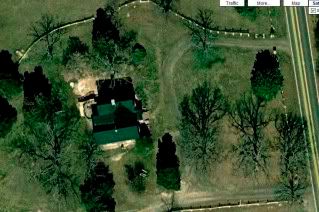 The new garage was under construction ... you can see piles of materials all over the driveway. The little building on the right is the workshop.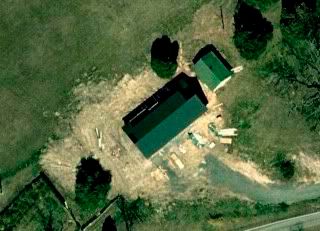 The barn was in its 'unrestored' state, with all the overgrowth and the rotten fence surrounding the barnyard.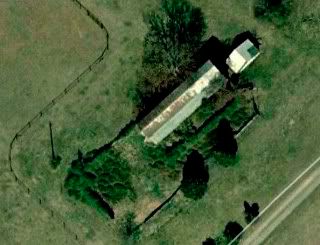 The rose field was covered in brambles and honeysuckle. What a difference a few years, a lot of work, and some heavy equipment can make. (Ignore the red A ... it's a Google thing.)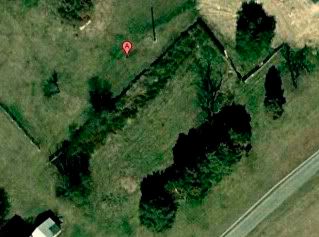 Click
HERE
to play with the map yourself.
Come visit us on June 6th for our grand opening to see all of this from 'ground level'.