This will be the second weekend in a row that I will have the roses away from the nursery. Our booth last weekend at Hartwood Days taught me a lot.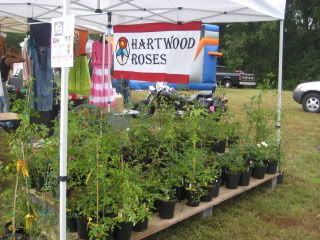 (That's not my laundry in this photo … the booth next to me was selling skirts, tops, and sundresses.)
Lesson #1: If it's not blooming, people probably don't want it. This has been easy to deal with here in the garden, because I have the mother plant to show … can't do this at a remote location like a fair or a plant sale. I had a vase of flowers to show as examples, but it just wasn't the same.
Now, all the roses have photo ID tags. I'll put them into the pots as I arrange them in my booth. That way, people can browse and ask questions … instead of having to shop from my list or know in advance what they want.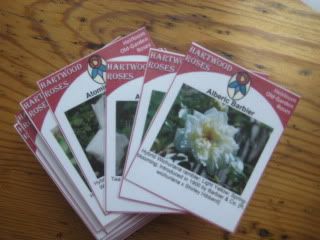 Lesson #2: It's a waste of time to bring my crocheting, because there's always someone who wants to visit. At Hartwood Days, many of the people who stopped to chat were locals who asked questions about our house. Others were drawn in by the display of roses, and they wanted to know how to better care for their own roses … or they wanted to tell me about the roses their mother or grandmother or neighbor grew … I love hearing these stories, BTW.
Lesson #3: It's easiest to make a point if I use a visual aid. The best idea I had while I was packing for the fair was to grab an empty bottle of fungicide and toss it in with the rest of my stuff. This was great because I could show people the actual chemical that I use to spray the roses, instead of just telling them about it. I think I'll make up a rose care card if I have time, so I don't have to write "Bayer Advanced Disease Control … get it at Lowes" over and over again.
If you have the time, stop by my booth at Lewis Ginter, tomorrow from 10:00 – 6:00 or Saturday from 9:00 – 3:00. For details and directions, click
HERE
.
The roses are on sale … $10.00 each, and I have brought back the Buy 3/Get 1 Free deal. See you this weekend in Richmond!
(written by Hartwood Roses. Hartwood Roses blog)