I have this cute little polyantha rose that I call Sumerduck Cemetery … because I found it beside a grave in a cemetery in Sumerduck, Virginia.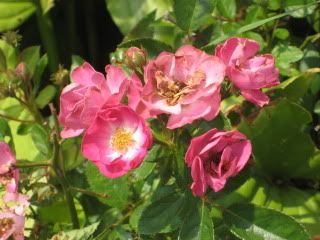 The bush was a little more than 2 feet tall, sticking out the top of a struggling clump of hosta. I took a small cutting that day, and I was able to root two plants from it. I also trimmed some of the dead wood off the mother plant … I believe we should leave roses in better condition that they were when we found them.
As I was coming home from Culpeper yesterday afternoon, I stopped at the cemetery to check on the little rose. Here's what I found: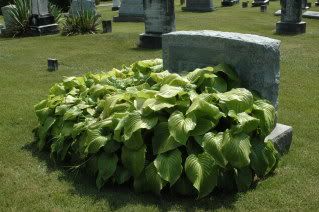 The rose is completely gone. I dug through the heap of hosta, hoping to find something underneath … there's no sign of it. I don't know if it was a victim of our extreme drought last summer, or if it died because of the unseasonable cold last winter, or if someone was tidying up and removed it.
Things like this happen all the time. There are roses in a cemeteries/old house sites/vacant lots that die from weather, are weed-wacked, sprayed with herbicide, cut down, dug out, bull-dozed, etc. I hope there are other people who feel the loss of the heritage that this rose represented.
I'm glad I took a cutting that day I found it. This rose, whatever its identity, will live on in my garden … and your garden, too, if you choose to buy it while you're here.