The little cinderblock building beside the barn is the perfect location for the nursery's office. It's 10 feet by 20 feet, divided down the middle into two rooms, with a perfect southern exposure. With a bit of work, and some imagination, it's going to be incredibly cute.
Here it is before we did anything to it: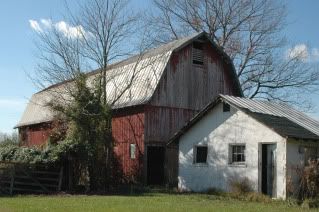 This is what it looks like now, with its new roof: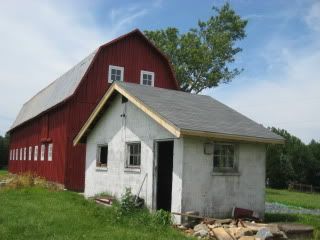 (Isn't the barn fantastic now?)
It's going to be painted these colors:
The yellow is for the body of the building. The trim on the eaves, the doors, and the windows will be white. The windows themselves will be blue, and the door will be purple. These colors look really, really good next to the red barn.
I'm replacing original broken, rotten windows with some of my old, scrounged windows. These two-pane ones fit the openings perfectly, and they add to the cottage-ey feeling that I'm going for. They need a bit of work, though.
Before: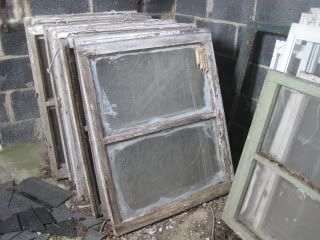 During: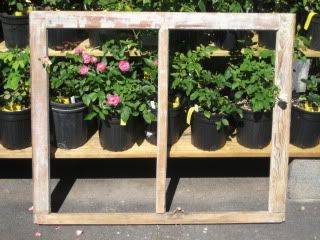 After!
(only 4 more to go)
The original door was built from two layers of tongue-and-groove pine. The frame was rotten, the door itself had seen WAY too much target practice from previous owners, and I'm going to buy a new one. I found the one I want at Lowes … ¾ glass, with two raised panels at the bottom. A lot like this one: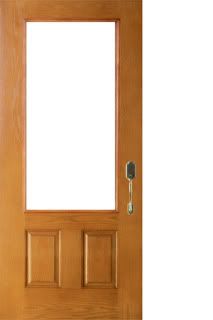 (Now picture it painted purple.)
We have been calling this building the Tack Shed, because that's what the previous owners called it. I see it as a cottage, and I've been trying to think of a better name for it … "The ??? Cottage"… I haven't come up with a name that I like yet. Any ideas?